Better Business Concepts (BBC) – Innovative Business Solutions and Strategic Marketing™
Welcome to Better Business Concepts. We are here to ensure the success of your business by helping you with your bookkeeping, management, and marketing needs.
No matter how large or small your venture, we can assist you in performing the daily background operations needed to make and keep your business increasingly profitable. We all want to live in a world where there is no complicated paperwork to fill out and customers just line up in front of our doors every morning. We exist to make that world your reality, one step at a time.
From bookkeeping to marketing, we have helped numerous Los Angeles and San Fernando Valley businesses simplify their daily routines, clean up their books, and start healthy marketing campaigns. By working with BBC, you will allow yourself to focus on the most important thing about your business – YOUR BUSINESS. Take a look at our comprehensive list of services, and stop worrying about bookkeeping, marketing, advertising, websites or anything else that may get in the way of your day-to-day success. Let BBC take care of the rest.
From data entry for our Van Nuys and Woodland Hills customers to bookkeeping and business license renewals for our Los Angeles customers to invoicing for our friends in New York, we have the capacity to handle an accounting and bookkeeping project of any size.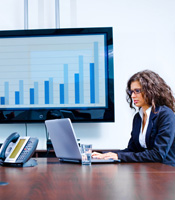 We bring you the best in the world of marketing, production, logos, graphic design and large scale printing. Whether you need a new website, a new billboard or a large and beautiful banner, we can help you fulfill your goal.
Do you have a printer, web designer or accountant whose services you prefer to use? No problem. Our consulting team can handle projects of any size, from half-hour marketing consultations to complete business plan re-designs. Let us work with your accountant or web designer to make your business shine even more.
Testimonials
"My business was like a ship lost at sea before Sean Wilcox and the BBC took charge. They completely organized our books, and now we are back on course. The BBC literally saved my business. Sean is courteous, efficient, and easy to work with. If you want more peace of mind when it comes to keeping your books in order, I highly recommend the BBC. Thank you, Sean!"
"From my first meeting with Sean at BBC, I was blown away by his attention to details and his commitment to excellence. He is thorough and meticulous. A huge weight has been lifted off my shoulders by turning this part of my business over to him. I have complete confidence that my bookkeeping will be done well and completely. What a relief."
"I had years of data entry backlogged, and it made me nauseous just thinking about getting it all organized and entered. BBC took it all off of my plate and let me get back to my life!"
"Sean Wilcox at The BBC is exactly that—the BEST! With his calm demeanor and knowledge he was able to teach me in two hours what someone else couldn't explain in nearly twenty hours. I had the reassurance that any mistakes I made in QuickBooks could be corrected. Sean is always available for questions, completes things in a timely manner, and BEST of all he always has a smile and a kind word. I am confident in his abilities to handle all our business and personal financial matters. Thank you Sean and The BBC."
"I am a small business owner of a Construction Management and Consulting Co. and was pleased to find Sean and The BBC. His company is THE BEST BOOKKEEPING COMPANY hands down. I can devote 100% to my business while Sean and The BBC takes care of the bookkeeping. His company is efficient and cost effective, and has constantly provided the expertise that I need. I highly recommend him and his company."
"We have used Sean Wilcox of The BBC as our bookkeeper for the past 18 months. We are extremely pleased as was able to correct many mistakes of our past bookkeeper, at the same time doing the job faster, more efficiently and less expensive than previous bookkeepers. Sean is easy to work with and adaptable to our special needs."